Easter Brunch & Take Home Meals from Chef Erin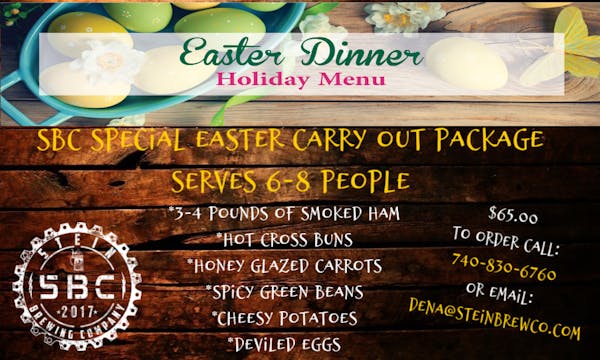 Chef Erin has created a great package for you and your friends/family for this Easter. Why cook when you can have Chef Erin make the meal for you!
3-4 lbs Smoked Easter Ham
Hot Cross Buns
Honey Glazed Carrots
Spicy Green Beans
Cheesy Potatoes
Deviled Eggs
All this for only $65 and feeds 6-8 people. Call 740-830-6760, email Dena@steinbrewco.com or stop in by end of the day Wednesday April 17th to reserve yours today.
Also we have reservations (limited) for Easter Brunch (10:30-3 pm) where Chef Erin has wonderful plated options plus our yummy Sunday brunch menu. See you this Easter at SBC!